Buy 1, Save 30% on all others! - Free shipping to all U.S.
Special Days
/ 5411 products found.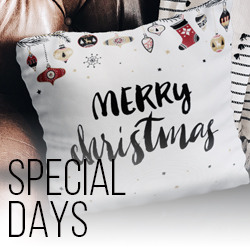 Looking for a gift to impress your loved ones?
Are you worried that holidays of 2019 are coming at an unprecedented speed and you would be unprepared for them? Well you are in luck because Ambesonne got your back. Whether it is Mother's day gifts or father days gifts you will find all sorts of cool designs for everyone you love. Create a gift baskets from our easy to handle products. Home decoration are looked over aspect of gift giving process. But you can break the tradition with a stylish curtain tablecloth or a tapestry. Give them something more than a flower bouquet this year. Our catalog has an enormous selection of different holidays for you to choose from. Don't you think that gifts for him you have bought are getting stale. Get a funny shower curtain this year and show your whimsical side. Our store has a lot of best friend gifts with so much laugh potential. If what you are looking for is unique gifts this is the place for you. Turn your mothers day flowers into a flower themed tablecloth to dress the evening dinners from now on. Find personalized ornaments in our store and share the happiness with everyone.